RULERS!
I bet you thought that was going to say something about fabric right? While an over abundance of fabric is never a bad thing for a quilter but I've realized (and I'm not an expert this is just my opinion) that one can never have too many rulers. Here's what I'm talking about.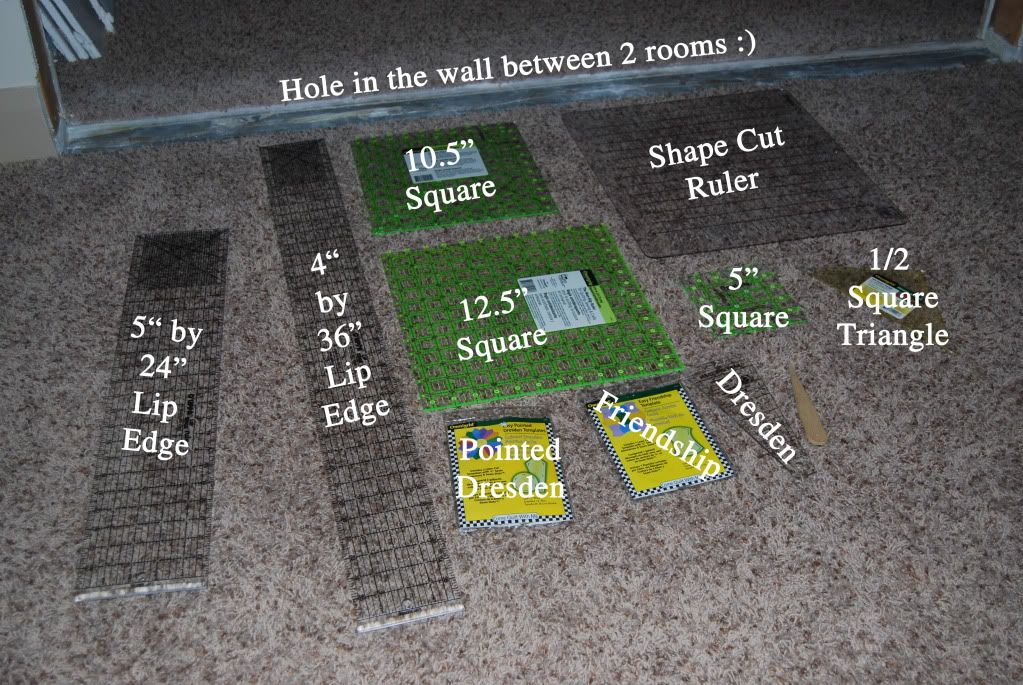 My current stash of rulers with a nice view of the hole we put in the wall so I can create my ultimate girl space
That is the stash of rulers (and templates) that I currently own. I know I'll probably be returning to Joann's on Monday (I typed this out last night) to buy more rulers. They're currently 50% off and I have a 15% off coupon on top of that!! YAY FOR SALES!! Anyway, back on track Alicia, there is a purpose for each and every ruler (or template) in my stash. I realize that each ruler I have can serve multiple purposes and that I don't have to spend the money on more but I think having the perfect tools for a job always makes the job easier. I know I can cut a triangle from any of the rulers that I have but who knows how accurate they're going to be. With the 1/2 square triangle I don't have to worry about that. I know it will be perfect each time.
Now I know templates aren't technically rulers but I classify them the same. They're used for cutting a piece of fabric to an exact specification. The only templates I have right now are these.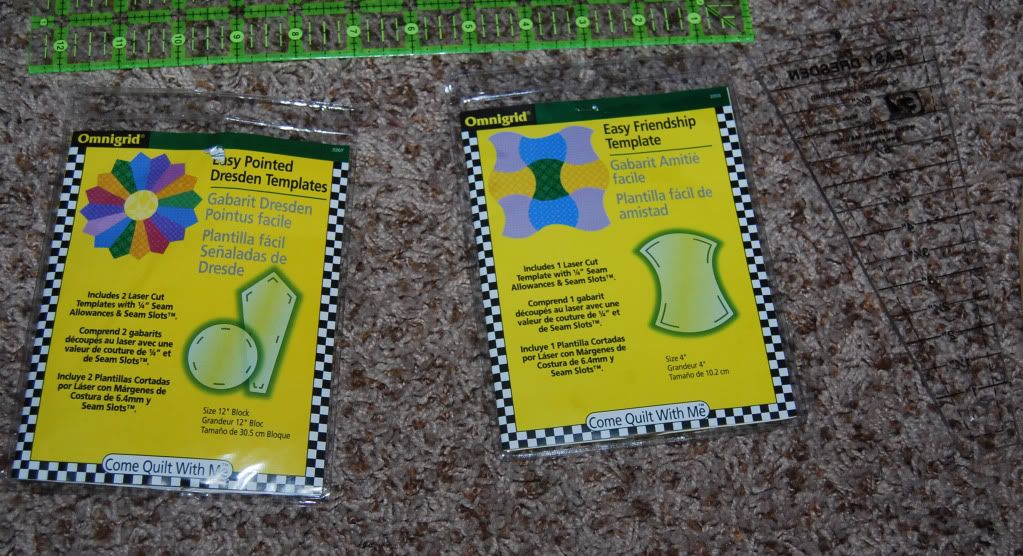 Left: Pointed dresden. Middle: Friendship. Right (barely visible) Dresden
I could probably cut each of those shapes out, minus the friendship (it's quite odd), on my own but accuracy is key in quilting. I couldn't imagine being off by even a hair where it counts.
So this is my humble opinion. Having too many tools to do the job accurately and quickly is never a bad thing. Yea I spend a little too much money, a little too often, but what's a little bit of money when you get to see the faces of the recipients of all the beautiful things you hand craft.