Last week I was working on my first baby quilt. Well, to be honest, my first quilt period. I was so scared to start it because I was afraid that I was going to screw it up.
I practiced stippling
, since that's what I was doing on the quilt, on several pieces of fabric and a couple pieces of paper.
The only thing I'd ever done in relation to quilting was watched videos on YouTube (mostly from the
Missouri Star Quilt Company
) and kept a close eye on the
Free Motion Quilting Project
with Leah Day. Over many days of watching videos and playing with mini
quilt sandwiches
I figured it was time to jump in. I put the sandwich under the needle and just started quilting. I couldn't be happier with the results.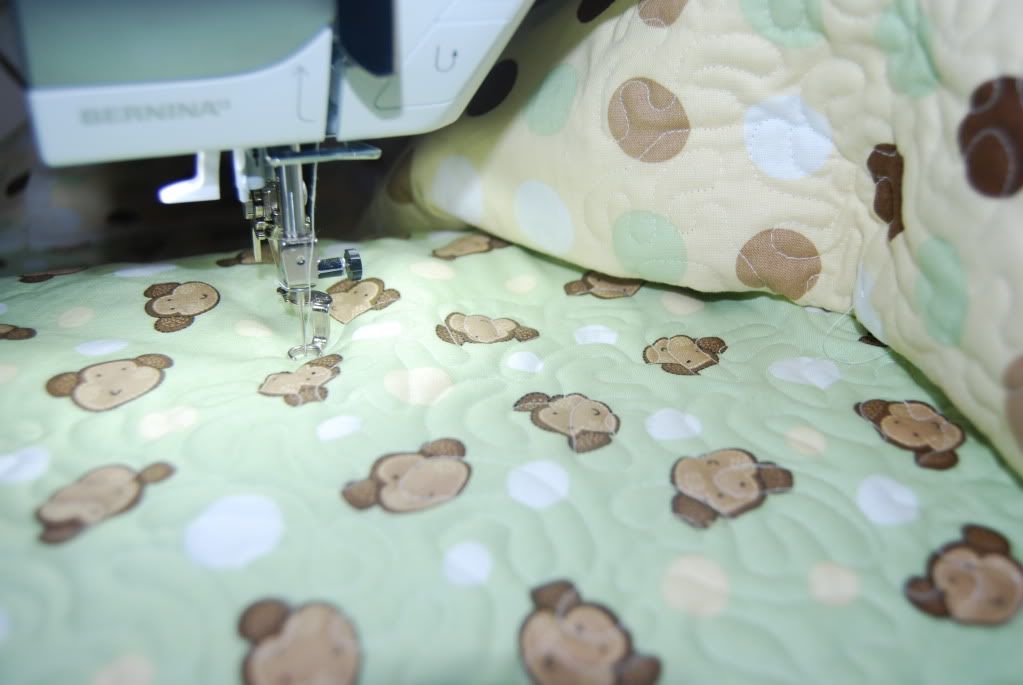 (I have one piece of advice for anyone wanting to quilt on their regular sewing machine. Make sure you get yourself (or build yourself) a table that allows your machine to sit at bed height. I fought with this blanket for hours because I didn't have one.)
The next step was binding. I didn't take photos of this but it was a lot easier than I thought it would be. I had an issue with sewing the pieces properly but after watching
THIS
video, buying
THIS
tool, and fighting with my bobbin, everything came out perfect. So, without further ado, here's the finished blanket.
I've already given the blanket to my neighbor and, oddly enough, it matches everything she's already purchased for the baby. She had no idea I was making the blanket and I had no idea what she was buying for her baby. I can't believe everything matches so perfectly.
I can't wait to start another quilt. I just have to have someone to make it for.